Martial Arts Classes at Crabapple Martial Arts Academy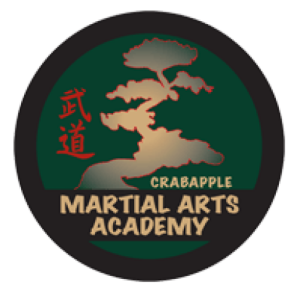 Alpharetta, GA
Special Online Offer

2 Weeks FREE!
Limited Time Offer
Take An Exclusive Sneak Peek
At Our Local Community Programs
At Crabapple Martial Arts Academy we have been training community members from kids to adults.
Our students of all ages excel socially and in life at home, at school, and at work.
At Home
Self-discipline and impulse control are two of the biggest advantages of martial arts training.
At School
Kids who practice martial arts have a much higher attention span and self-discipline.
At Work
Improve your focus and concentration with the new found energy you will have.
A Story That We Are Proud Of As A Martial Arts Industry Influencer
FREE E-BOOK DOWNLOAD
First Time VIP Visitors To Our Site Get This Exclusive Download
Karate For Kids
Our Karate Classes for kids in Alpharetta, GA have a Special Offer. Karate classes enhance: Respect, Courtesy, Self-Control, etc. which leads to new Life Skills, Better Grades, reducing ADD/ADHD issues, less Bullying, Self-Defense, and better at Home Behavior.
Get Started
Bully Prevention
At Crabapple Martial Arts Academy, our Bully Prevention program will give your child the skills to handle any situation. Teaching physical fitness, self defense, and building self-confidence, we will prepare your child for this ever-changing world. They will never be a victim again.
Get Started
Martial Arts For Adults
Our Martial Arts programs service teens & adults from traditional to modern martial arts training in a safe and fun environment. Practicing concepts that build physical fitness, situational awareness, self-confidence, esteem, self-defense and much more.
Get Started
We Are Proud To Announce… Our National Go2Karate® Recognition Award
Go2Karate.com is the largest martial arts directory listing website. Go2Karate.com rates martial arts schools' websites based on criteria that demonstrates a quality user experience, customer service and service rating based on reviews. Go2Karate.com has a selection process for rating all schools that receive the Go2Karate Top Rated Quality Badge. We highly recommend you take a moment and read the reviews below.
Our Martial Arts Team Takes Great Pride In The Reviews We Receive
See What Our Community Members Say About Our Programs
Sarah Ray
2 of my kids are current students here and we cannot speak highly enough about our experience so far. In the 5 months that we have been a part of the Crabapple Martial Arts Academy family we have already seen growth in both kids not only in their physical skills, but also in their confidence and character. We love that this dojo encourages abilities both on and off the mat, in working hard and giving your best effort, to leadership, healthy eating, reading, helping around the house and learning to see the needs of others. It's a great feeling to know that there are other adults that are pushing and encouraging my children to grow in the areas that we as their parents are also instilling at home. It really does take a village, and we are honored to be a part of this one!
Christine Scholeck
Crabapple Martial Arts has been such a positive experience in the last three and a half years that my son has been going here! He has learned life lessons as well as leadership skills and of course, karate and all of it's awesome benefits!! Crabapple Martial Arts Academy has definitely had a positive effect on his life!
Alex Greeson
My son is 6 years old and Loves Crabapple Martial Arts Academy. He has been a student for about 4-5 months. He is feeling more confident in himself since he has started this academy. He thinks Sensei Matt is awesome. I can not wait to see how my son processes in the next couple of months.
We Are Proud To Introduce Our Owner
With a passion for helping community members stay safe while teaching the "art" of martial arts, our Instructor believes that each student can obtain their goals and objectives in life. While teaching techniques that save lives with life skills that work both on and off the mat, our students get the best instruction possible in
Alpharetta, GA